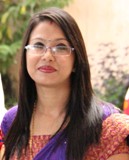 Name: Mrs. Prerna Rai

Designation: Senior Lecturer, Computre Science

Anti Sexual Haressment Committee : Member Secretary
Mobile No : +91 8348129892
Email : pthulung@gmail.com
ANTI SEXUAL HARASSMENT COMMITTEE(ASH)
NEQIP Academic committe has constituted anti sexual harassments committee as folows.
S.NO
APPOINTMENT
NAME
DESIGNATION
1
Chairman
Mr.Praven Kumar Pradhan
Principal Incharge
2
Member Secratary
Mrs.Prerna Rai
Sr.Lecturer/Training Officer
3
Members
Mrs.Srishti Shrestha
Lecturer,Course Incharge DEE
Ms.Prashika Tamang
Lecturer,CIVIL.
Mrs.Kabita Nepal
Lab instructor,DENC
Mrs.Renuka Pradhan
Asst.Hostel Warden Girls
Mr.Suren Chettri
Hostel Warden Boys
Mrs.Riu Tamang
Office Assistance/Representative from Admin.
Ms.Bhim Maya Subba
Representative from Contract staff
Above Committee Will be enforced effective from 23.07.2015.Any Complain in case of any kind of sexual harrassment will be addressed by this committee.